Thanks to my friend, Austin Arias, I am now joining him, Lindsay, Raul, and Thomas on the Leadership Team for The #SAGrad Blog. I am very excited to start this journey to help future #SAgrads and current #SAgrads become successful in this field.
We just had a Google+ hangout to talk about ideas and this is gonna be a GREAT team (I'm biased but whatever it's fine).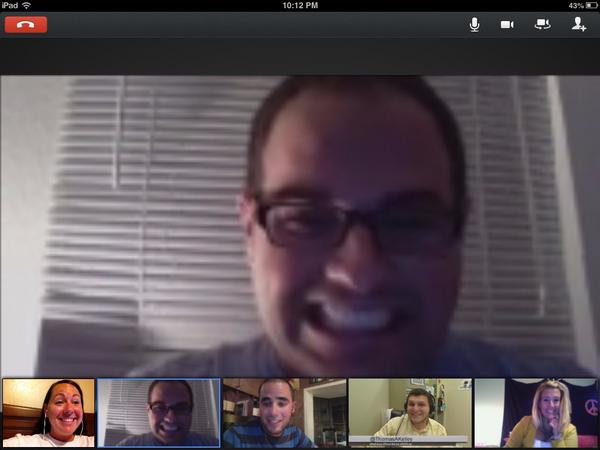 I want to share with you our 1st piece that we are working on- #SAGrad chats! The chats are BACK! We are really excited to start intentionally engaging our classmates around the country outside of just tagging #SAgrad in our tweets. You can even guest blog for us! We all love what we do and can't wait to start interacting with all of you!
What are #SAGrad Chats?
#SAGrad chats are an opportunity to share thoughts, resources and information with other student affairs graduate students, professionals and higher education faculty, consultants and more! The goal of the chats is to connect others in the field and provide the opportunity to learn from each other.
What do I need to know to join in?
Date: The 2nd and 4th Tuesday of each month
Time: 1 – 2PM (Eastern), 12 – 1PM (Central), 11 AM – 12PM (Mountain), 10 – 11AM(Pacific)
Where: Anywhere you can access Twitter.
How: Simply search #SAGrad on Twitter and include it at the end of your tweets during the conversation!
Moderators: Members of the #SAGrad Leadership Team
Topic: It's up to you! We will post a poll every Monday morning to help decide!
"Tricks of the Trade"
We recommend using Tweetchat or Twitterfall to follow the conversation!
Make sure you indicate the question number in your responses. For example, if you are responding to question 2, you would tweet: "Q2: _______"
We encourage you to respond to any and all questions. However, "lurking" is definitely encouraged! Feel free to introduce yourself at the beginning, follow the conversation as you wish and chime in whenever you'd like. Lurking is a great way to stay engaged during a busy day.
If you enjoy interacting with someone on the chats, want to follow their content and engage, feel free to follow them on Twitter and send them a reply or direct message to connect further! We can speak from first hand experience that that post-chat outreach can lead to long lasting connection!
Have fun and enjoy it!
Vote on the next chat topic!
The poll for our first chat on Tuesday, October 9, 2012 will go live on Monday, October 8th!
Time: 1 – 2PM (Eastern), 12 – 1PM (Central), 11 AM – 12PM (Mountain), 10 – 11AM(Pacific)
If you have any questions at all about what we are up to over on The #SAGrad Blog, please check us out! :)